I am
looking at the clock every five minutes
patiently waiting for 5:00 to roll around, so I can get my long weekend started. I have spent much of the last few days getting last minute things together, trying to finalize plans, and the hardest task, trying to decide which combination of jello and alcohol will make the best jello shots. Tough I know.
My brother and I along with some of our friends are heading out to the campsite tonight to pitch our tents, check out the site and situate the living room furniture. Yes, you read that correctly, my brother is taking the old living room furniture out to the campsite. Coincidentally, we won't be the only ones with actual furniture. At
Jambo
, anything and everything goes.....
Here are some site from the past years.
See all those people? This years crowd is anticipated to be well over 100,000.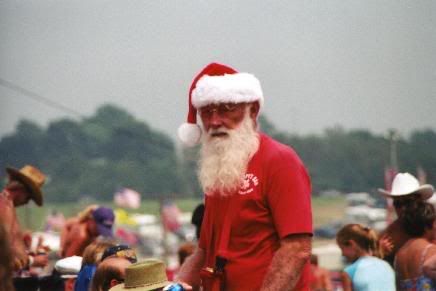 Ever wonder what Santa does in the summer? He comes to Jambo!
Yes, that really is a coffin. Patrons take their own alcohol into the venue and have all kinds of various things they use for coolers. Including coffins.
I will have lots and lots of stories and/or pics when I come back. While I am gone
Rachel
,
RebeccaC
,
Andy
, and
Melanie
(some of my FAVORITE bloggers) will be guest blogging which I am totally excited about. Leave them lots of love!
I will be back on Monday! Enjoy the rest of your week and weekends!!